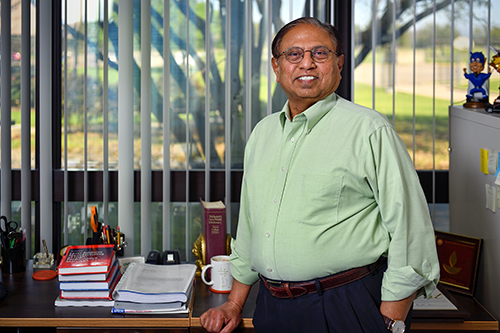 Narendra Dahotre, Ph.D.
Founding Leader and Associate Vice President
UNT Regents Professor
Fellow of the Society of Manufacturing Engineers
SME Lifetime Eli Whitney Productivity Award, 2018 Recipient
Narendra.Dahotre@unt.edu
940-369-7678
Discovery Park, Room C136E
Founding Leader's Message

UNT's Center for Agile and Adaptive Additive Manufacturing, CAAAM, was launched in 2019 thanks to a $10 million appropriation by the State of Texas Legislature. This center is on the cutting edge of additive manufacturing becoming the next generation of manufacturing innovation for U.S. and global markets.
While the industry is rapidly moving forward, additive manufacturing is a long way from becoming a commercially viable tool for widespread industrial applications due to a lack of thorough understanding among researchers and industry leaders. More understanding is needed to leverage the science and engineering of materials — from micro-to-multiscale properties — and the process-engineering approaches, such as fusion-based, solid-state, mixed-phase and surface engineering-based additive manufacturing.
Many innovations now are feasible through a synergistic approach involving computational process and materials modeling and in-situ and ex in-situ process and materials analysis/diagnostics along with data and decision sciences, which is the purpose of CAAAM. The center is poised to forge innovative interdisciplinary collaborations across a multitude of science and engineering aspects of additive manufacturing including cybersecurity, data and decision sciences, complex logistics and supply chain, and high-performance computing.
Additionally, the center will work to address acute shortages in the manufacturing workforce by empowering companies to embark on additive manufacturing innovation and create industry research partnerships with regional and multinational manufacturing industries and their partners to meet the needs of public, private, federal and defense industry domains. These partnerships ultimately will lead to technology development and commercialization opportunities.
Finally, CAAAM's educational unit, the Institute for Transformative Education in Additive Manufacturing, ITEAM, focuses on developing a truly comprehensive and integrated education and training program in additive manufacturing. The emphasis is on the underlying scientific principles behind each of the AM processes and detailed and robust characterization of the microstructure/nanostructure and resulting properties. This curricula also will include the integration of data and decision sciences, artificial intelligence, cybersecurity, supply-chain logistics and high-performance computing.
Through support from partnerships and the State of Texas, CAAAM is positioned to build and support next-generation manufacturing prowess to lead U.S. global competitiveness and drive the way toward creating the future of manufacturing innovation and success.
We look forward to you joining us in making this vision a reality!
CAAAM's Education Institute: ITEAM
Transformative education is an educational practice that leads to the creation of a new paradigm — a practice promulgated and promoted through CAAAM's education institute.
The Institute for Transformative Education in Additive Manufacturing, ITEAM, is CAAAM's education wing dedicated to empowering future workforce members to be capable and ready to support the economic and innovation prowess in agile, adaptive and additive manufacturing in the United States. The ITEAM seeks to create transformative educational opportunities that leverage research excellence through CAAAM to further UNT's strategic priorities in achieving National Research University Status.
You will find all the relevant information on the 2023 Summer Program web page.