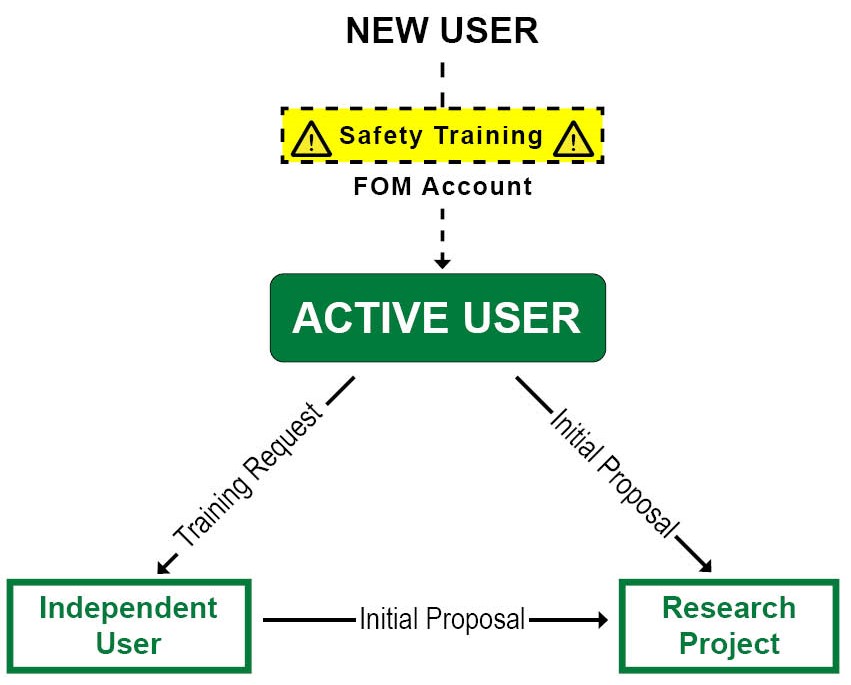 Mandatory Training for Users
All users of CAAAM facilities are required to maintain current safety training certification specific to the hazards contained within CAAAM. The appropriate training courses are linked below, and are valid for 1 year after date of completion. All users must send verification of completion to the lab manager.
Accessing CAAAM Facilities
CAAAM Facilities are booked and charged through the FOM System. For internal users, a current FOM user account is required. To create an FOM account, the Account Information Form must be completed, signed, and sent to the lab manager. Users with an existing FOM account must send their previously completed Account Information Form to the lab manager. Once an FOM account is active, users will book time on FOM, and will be charged for equipment hourly usage per the CAAAM User Fee Schedule.
Users should request training (Training Request Form) for specific pieces of equipment if they intend to perform continuous work in CAAAM. Untrained users, especially for undergraduate projects or one-time depositions, will have to work with the lab staff for planning and operation of equipment.
To start any project with CAAAM facilities, a user must complete an outline of their project on the Initial Proposal Form, and bring a printed copy of that form for short review by the lab staff during weekly office hours, Fridays 12pm-5pm.
All external users will communicate with the Center Director and lab manager for their specific needs.
Safe Operating Procedures
EMERGENCY CONTACTS
Primary Emergency Contact: 911
For Non-Emergency Chemical Situations
Department of Risk Management (DRM):
If Time Permits, contact the CAAAM Staff:
Shelden Dowden: 940-369-5141
Powder Handling
Only qualified/trained personnel will be allowed to use the equipment and handle powders in CAAAM.
Users will be required to wear PPE when handling any powders:

Face mask, N95 minimum
Gloves
Safety Glasses
Body Covering Suit

Powders must always be transferred in closed containers to and from the machines and the powder handling room.
Powders can only be moved out of storage or the powder handling room in closed containers.
Care must be taken to handle/transfer powder slowly to prevent the formation of a dust cloud.
Heat sources, water, oxidizers, acids, and alkalis should be avoided in the presence of powder.
Anti-explosive powder handling vacuums must be used for all powder cleanup, and only for powder cleanup.
Powder Recycling
Any recycling of powder must be done in a sieving station in an inert atmostphere, or in the powder handling room.
Recycled powders must be stored in a vacuum/ESD safe packs and placed in the original containers.
Any waste powder that is not recycled must be disposed of according to the hazardous waste guidelines of UNT.
Additional Information
NIST Recommendations for Metal AM Safety
CDC Guidelines for 3D Printer Safety